Financial / Terms
Minimum Investment: $87,150 (Single territory)
Support & Training Provided
Financial Assistance Provided: Yes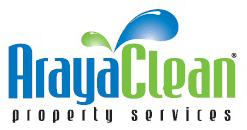 Araya Clean is the top tier provider of superior power washing services for your commercial, industrial or residential properties. We offer a complete line of power washing services to meet your building, facility, home or parking structure cleaning needs.  Because of our proprietary equipment, cleaners and degreasers, we are able to provide environmentally responsible cleaning.
There is a tremendous need for power washing services such as washing sidewalks, parking garages, building facades, roofs, windows, concrete, masonry, oil and stain removal, graffiti removal, dumpsters, construction sites and equipment, industrial site cleanup, driveways, de-greasing, gum removal, decks, mold and mildew removal…to name a few.
The power washing industry is everywhere.  Until now, this industry has been fragmented and run by fly by night companies which typically provide poor services due to lack of knowledge and short cuts in processes and procedures.  As an Araya Clean franchisee, you will be provided with a well organized business system (proven out by our affiliate company over the last seven years) giving you the tools and equipment to provide a superior high quality service.
The power washing business can establish dynamic streams of revenue in a multiple of areas such as commercial, industrial, government and residential.  On the commercial side the customers are shopping centers, grocery stores, banks, gas stations, business properties, fast food and other chains.   The individuals you work with are property managers, facility managers and home owners.  Power washing has a surprising number of uses and its growing popularity will result in even wider opportunities for the power washing business.